It's a great idea to get a coat for your dog to keep them clean, dry and warm on walks during the colder months of the year. Wearing a coat means that even when the wind is howling, they can still enjoy their time outside, without any worries. There's a huge range of variety when it comes to coats for dogs, with everything from polyfill insulation for extra warmth, to reflectives and hi-viz for their safety while out and about.
When buying a rug or coat for your dog, it's important to make sure you get the correct size. You must measure your dog as a proper fit is vital. Dogs aren't naturally used to wearing something on their body, so if it's uncomfortable or restricts their movement, they're unlikely to want to wear it! When measuring your pooch for a rug or coat you should never cut corners, as a poorly fitting garment can also end up being dangerous.
If the coat is too tight then it can restrict the animal's blood circulation or interfere with its natural movement and breathing. And if it's is too loose then it can tangle your pet's legs or fall down over its eyes, which can also be a safety risk. Manufacturers of these garments tend to advertise them with just one measurement, however, in order to get the best-fitted outfit for your dog, taking a number of different measurements would be better. When going to measure your dog, it is often best to take them in both centimetres and inches, just to be on the safe side. So, here is our guide to how to measure your dog for a coat:
Measure Your Dog – Three Basic Measurements
The three basic measurements that you will come across when fitting your dog for a new coat are the topline, girth and the neck. These are what will be required for most basic garments. The neck is pretty self explanatory, but for clarity it is usually measured from where your dog's collar would naturally rest – from the top of the chest at point E (see the diagram above) – to just above the animal's withers around point A. You can also take the neck measurement all the way around. The topline measurement is the length of the animal's back, which is taken along the top of the spine from the withers in point A, along the back to the base of the animal's tail at point B. The girth of your dog is also sometimes referred to as its chest measurement. This is taken all of the way around the largest part of your dog's rib cage at point C, to the area just behind its front legs at point D and then back around to join at point C again. You are technically measuring the entire circumference of the dog using points C and D as guides for where your tape measure should sit.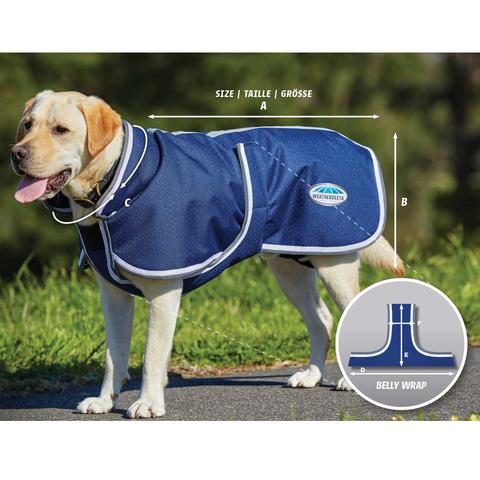 More Specific Measurements
If you are purchasing some more specialist garments for your dog then you may want to take a number of other measurements, based on your supplier's request. You will sometimes be required to measure your dog's head. This is usually taken from just in front of the animal's ears, around point F, to beneath the jaw at point G and then back up around to point F again. The method of taking this measurement is similar to that of the dog's girth mentioned above. You may need to measure your dog's head for a range of headwear from snoods to hoods. You may also be required to measure the back of your pet's neck, if you're buying a snood, hood or a turtleneck-style piece. For this you will need to measure from point F, above the ears, to the neck at its standard collar level on point A. Looking to buy a chest warmer or belly protector? You may be asked to supply the manufacturer with an under chest measurement. This will be taken from point E on the front of the chest, to point H, beneath the dog. And finally, the waist measurement is measured around the dog, from just behind the last rib at point H, up around the body to point J, and then back round to H again.
Dog Rugs on Equine Superstore
Now that you know how to accurately measure a dog for a coat, you'll want to browse what is available! Here at Equine Superstore, as well as stocking a huge variety of equestrian gear and clothing, we also sell a number of  products for smaller pets. So why not take a look at these great options for your dog?
The Weatherbeeta Fleece Zip Dog Rug is our best selling dog coat! Constructed in a lightweight fleece, this coat is extremely warm and cosy, perfect for those wintery walks. The lightweight qualities of the coat mean that it is great for dogs who aren't happy in heavier jackets. The zip fastens along the dogs back and ensures a great fit, so they won't be wriggling out of it! As it fastens above, it means that the coat fits nicely around the dog's belly, keeping them cosy the whole way around! This rug is always priced very affordably – proving great value for money! View more details here.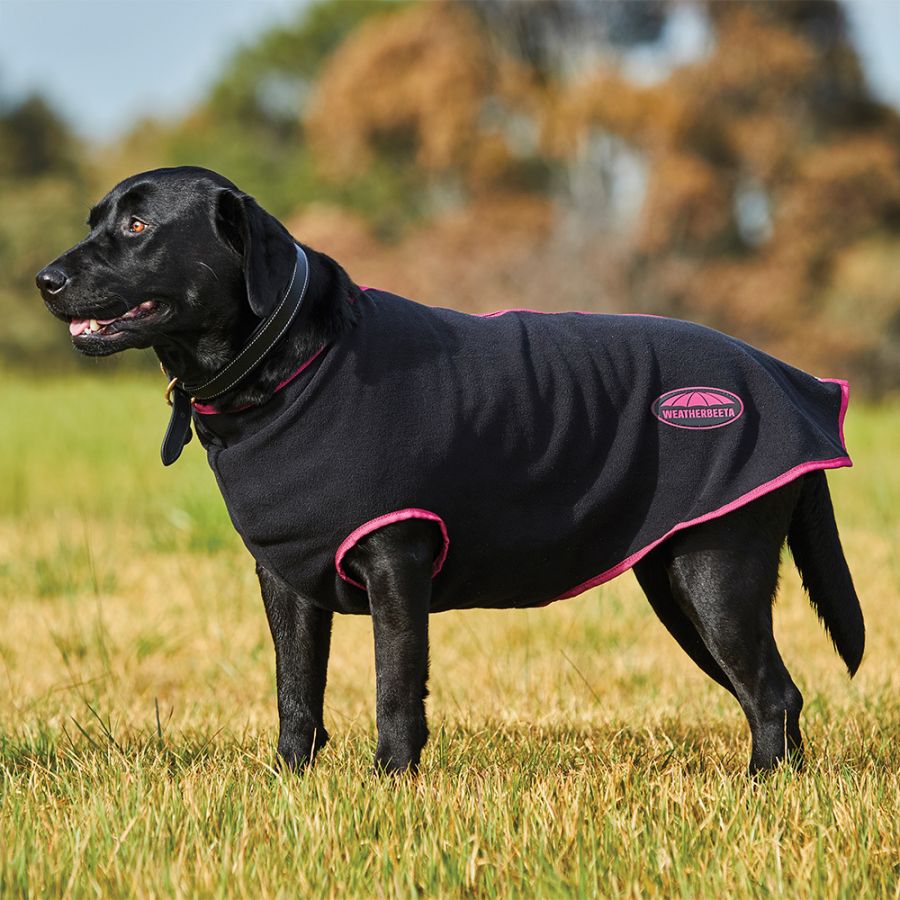 The Weatherbeeta Parka 1200D with Belly Wrap Medium Dog Rug features a fully breathable and waterproof 1200D denier outer shell which has been triple woven to ensure extreme durability. Filled with an insultating polyfill, this rug is perfect for older dogs who need that extra bit of TLC. This cosy dog rug fastens with easy to use adjustable touch tape closures, with the addition of a belly wrap for that extra bit of warmth and protection. View more details here.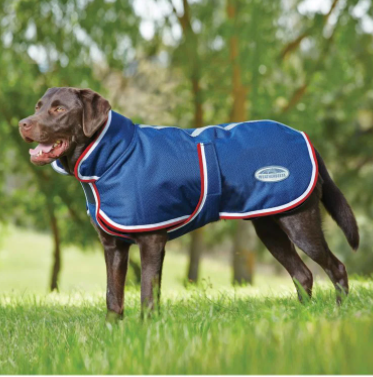 The Weatherbeeta Reflective Parka 300D Dog Rug in Yellow is perfect for walking in lower light conditions and during the long dark winter days. Its bright colour and reflective strips means your dog will be much easier to spot, increasing safety levels while out and about. This great rug also has 220g of polyfill insulation for that bit of extra protection from the cold, and is both showerproof and breathable for their comfort. It fastens with adjustable touch tape closure for a great fit. View more details here.
Want something fancier? What about the Comfitec Thermocell Dog Coat. It's bound to give your dog a touch of class! It features a stylish quilted polyester knit dog coat that is shaped for a more practical fit. This gorgeous coat features touch tape front closure and adjustable touch tape belly closure. Ideal for use after a wet walk or bath to help dry and keep your dog warm.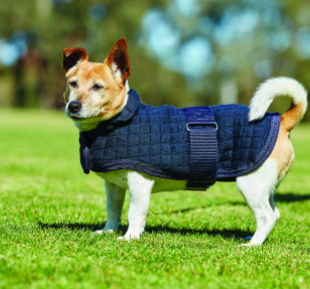 Not quite what you're looking for? Why not browse the rest of our dog coats for sale on Equine Superstore? We've got a great range of fleeces, exercise rugs, reflectives and more, in varying weights, styles and sizes, so you can tailor the level of protection as required. Send us a photo of your dog looking smart in their new coat on Facebook here.