Here at Equine Superstore, we stock a great variety of wide leg boots, whether you're looking for something to ride in or simply to wear on country walks. We know how frustrating it can be to see a boot you love, only to discover that it doesn't come in a wider calf version.
So, here are some of our favourite wide-leg boots:
Toggi Canyon Full Boots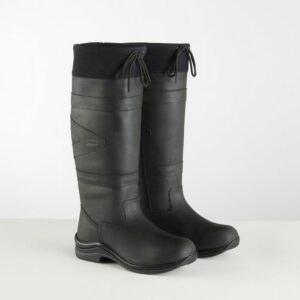 The Toggi Canyon Full Boots come in a wide version. This means that you can now get your hands on a pair of stylish and award-winning boots that fit comfortably. They come with a Puratex waterproof membrane and a second waterproof layer of mill leather. There is no chance your feet are going to get wet when you are wearing these boots. They also have a breathable PU cushioned insole, which perfectly compliments the flexible and lightweight PU rubber sole for extra added comfort. These design functions also make the boots extra safe when you are out and about.
Dublin River Boots III (Wide & Extra Wide Calf)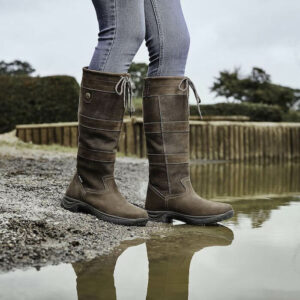 The wide calf version of the Dublin River Boots III are comfortable, stylish and of course, waterproof. How did they manage to do that? They combined their RCS footbed system offering all day comfort and support, with the HBR Waterproof Membrane and some beautiful redskin leather. The rain will no longer stand in the way of your countryside walks.
This membrane is also breathable meaning your feet will stay dry and sweat free. These classic Dublin boots come in a range of colours and now even offer an Extra Wide Calf fitting to accommodate an even wider (no pun intended) range of calf sizes! Get more information about the Dublin River Boots III – Wide Calf or Extra Wide Calf.
Dublin Eskimo Boots II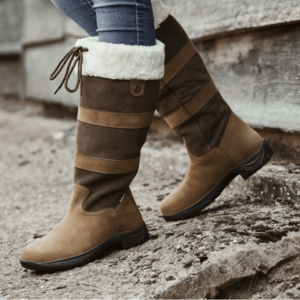 The Dublin Eskimo Boots II are an ideal choice for winter. With all the same great features as Dublin's classic River Boots, but with the addition of a cosy synthetic fleece lining, these boots are sure to keep your feet warm and dry throughout the colder months of the year. The rich dark brown leather contrasts beautifully with the fleece cuffed topline to create an incredibly stylish and practical country boot option.
Find out more about the Dublin Eskimo Boots II – Wide Calf here.
Horseware Short Country Boots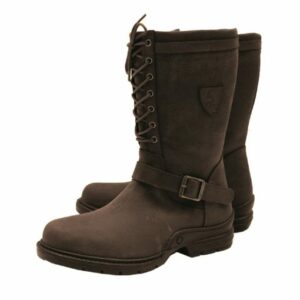 In contrast to Dublin's Eskimo Boots II, these Horseware Short Country Boots are perfect for year-round wear, with their mid-calf height making them great for use throughout the summer months when you don't need any extra warmth or bulk. These sturdy boots are constructed in premium waterproof leather, with a waterproof and breathable lining, meaning they are equally suited to wet and muddy conditions. The lace-up front fastening further increases how adjustable these boots are, so you can tailor them to achieve an optimum, comfortable fit.
Toggi Calgary Boots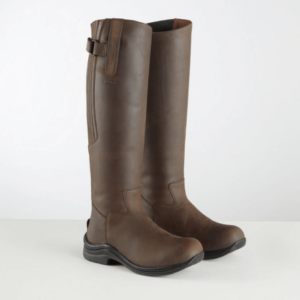 The award-winning Wide Fit Toggi Calgary Boots are long riding boots made from water resistant oiled nubuck leather to give good weather protection, with a lightweight and flexible PU rubber sole for great impact absorption. These boots have a wider fitting calf with elasticated gussets to provide an optimum fit for larger calves, with a full length YKK back zip for ease of wear. They are extremely comfortable and are suitable for riding or everyday wear.
View more information about the Toggi Calgary Boots here.
Dublin Calton Boots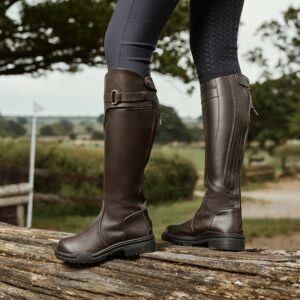 The Dublin Calton Boots are elegant and sophisticated boots, ideal for wear as either country boots or riding boots. They have a stylish buckle feature to the side of each boot, with carefully placed seam detailing for a sleek and premium look. Similarly to the Toggi Calgary Boots, the gusseted and elasticated panel to the side of the full length back zip ensures a flexible and comfortable fit on calves of all sizes. Find out more about the Dublin Calton Boots – Wide Calf here.  
So there you have it, some top notch wide leg boots from Equine Superstore. You can shop all our wide calf boots here or if you want to take a look at our full range of boots on the site, then you can find them here. Follow us on Instagram and Facebook to keep up to date with the latest offers!