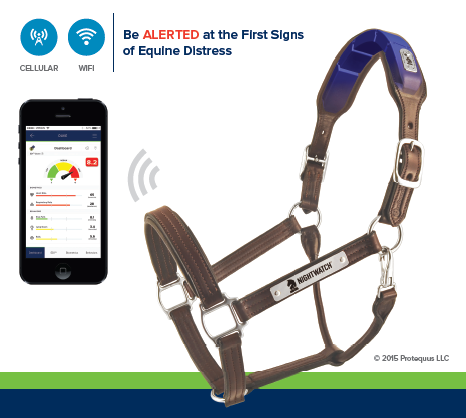 It is fair to say that the world of Equestrian isn't the fastest moving industry when it comes to the latest technology however recently the ARM Holdings annual industry analyst conference took place and a product which caught a lot of attention from onlookers was a novel ARM Holdings and Freescale Semiconductor based solution called NIGHTWATCH and it is currently in the late stage of development by Proteguus, a biomedical firm which is located on Austin, Texas.
The product will hit home to many riders because it's function is to solve Colic which is a very common digestive disorder, which causes abdominal pain amongst horses and also a large scale cause of death for many horses. Nightwatch is an innovative smart halter/collar which has been designed to continuously monitor and analyze your horse's health and biometrics this includes their behaviour, activities, motions, posture and any vital signs which could indicate a problem with your horse's health. The information gathered by the halter is connected to the horse owner's mobile device and when any abnormalities of signs of distress are detected by the halter the owner will be notified. All the technology is embedded within the soft leather crown or either the halter or safety collar, making it safe and comfortable for ongoing use on horses in stalls, in pastures and while in transit.
This product really is revolutionary for equine enthusiasts because for the first time in history horse owners can relax knowing their horse's health is being monitored 24/7. The product also showcases features like an Equine Distress Index (EDI) score - an objective measure of relative distress, from the convenience of a smartphone or web dashboard. In order to maximize precision, proprietary algorithms are continuously being updated as each Nightwatch independently learns that horse's unique biometric parameters and behavioural patterns.
Colic is the leading natural cause of death in horses however if it was detected early it can be easily managed and have little impact on a horse's survival and their quality of life. The worst thing about colic is that unfortunately most horses often have to fend for themselves because often Colic occurs overnight when no one is around. Traditionally the way you would detect signals for Colic would be by any changes in behaviour
In the majority of cases, you literally need to "sense" colic in the horse to then get them to a vet in order to help save their life. Experts say that detecting colic is an art and not science which makes it extremely limiting. It is for these reasons that Protequus developed NIGHTWATCH, a wearable IoT-enabled device to be there when the horse care-keeper can't be.
At this stage, NIGHTWATCH™ is in the final stages of developing the product and should reach the US and Canadian market by mid-year 2016. Plans are already underway to gather data during this coming foaling season to develop a specific foaling algorithm for breeders in 2017.
Watch video here : https://youtu.be/BFFmdkxLZt4
References: http://www.forbes.com/ , Horse Nation